BwHPC Registration
Anyone from a University or Colleges that are part of HAW BW e.v. in Baden-Württemberg can register. Access to the cluster is free of cost
1

Entitlements
To use any of the clusters mentioned below, you need an "entitlement" from your university that expires when you leave university. How to get an entitlement is described as part of the How to Register… guides linked below.
2

bwUniCluster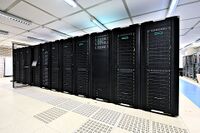 The bwUniCluster is intended for all other research areas not covered by the bwForClusters (including engineering) and for teaching purposes. It requires no separate project description, just the entitlement is sufficient to self-register.
3

bwForClusters
bwFor is short for "Baden-Württemberg Forschung".
The bwForClusters of bwHPC are intended for researchers of specific research fields and require a short project description and an estimate of the intended resource use next to the entitlement of your university.
These research fields are:
Theoretical Chemistry, Condensed Matter Physics, and Quantum Sciences
Computational Humanities, Structural and Systems Biology, Medical Science, and Soft Matter
Neurosciences, Particle Physics, Materials Science, and Microsystems Engineering
Bioinformatics, Geosciences and Astrophysics.
Group leaders or senior scientists register for their research group once, work group members join an existing project without the need of the additional project registration.