Views
Category:BwCluster
From bwHPC Wiki
The category bwCluster refers to the compute clusters on tier 3 level of the bwHPC infrastructure in the state of Baden-Württemberg: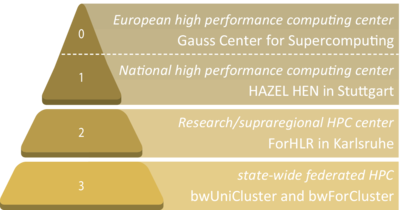 Figure: High performance computing infrastructure in Baden-Württemberg regarding HPC tiers.
Uniquely for Germany, Baden-Württemberg's HPC tier 3 provides aside a general purpose HPC cluster (designated as bwUniCluster) 4 research HPC cluster (designated as bwForClusters).

---
Subcategories
This category has the following 5 subcategories, out of 5 total.