Category:BwHPC infrastructure
The category bwHPC infrastructure refers to compute clusters of the HPC as well as HPC data storage infrastructure in the state of Baden-Württemberg. The current initiative (also called bwHPC concept 2013-2018) will establish the following HPC infrastructure: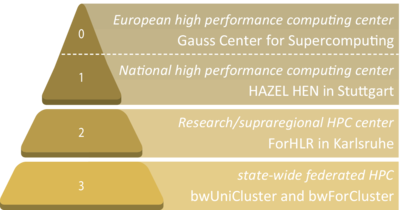 Figure: High performance computing infrastructure in Baden-Württemberg regarding HPC tiers.
and will cover all HPC tiers, i.e. performance levels defining peak performance and scalability requirements of codes applied. The HPC entrance level is designated as tier 3. Uniquely for Germany, Baden-Württemberg's HPC tier 3 provides aside a general purpose HPC cluster (designated as bwUniCluster) 4 research HPC cluster (designated as bwForClusters).


---
Subcategories
This category has the following 14 subcategories, out of 14 total.
Pages in category "BwHPC infrastructure"
This category contains only the following page.