Category:BwForCluster
The category bwForCluster refers to the compute clusters on tier 3 level of the bwHPC infrastructure in the state of Baden-Württemberg: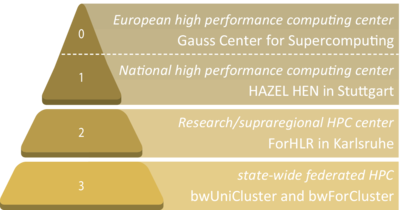 Figure: High performance computing infrastructure in Baden-Württemberg regarding HPC tiers.
The bwForClusters consist of four research HPC clusters for the scientific fields economical & social science in Mannheim/Heidelberg, computational chemistry in Ulm, neuroscience, micro systems engineering and elementary particle physics in Freiburg and bioinformatics and astrophysics in Tübingen.

Figure: The HPC competence centers are organized by the Universities Mannheim/Heidelberg, Ulm, Freiburg, Tübingen as well as KIT
---
Subcategories
This category has the following 5 subcategories, out of 5 total.